Horiba IG-340 Handy Gloss Checker, Gloss meter

The Horiba IG-340 Gloss Checker replaces the IG-320 meter which is discontinued
Gloss is an important visual property of the object's surface. The degree of light reflected from the object's surface is termed glossiness. However, the perception of glossiness is subjective and depends on the weather conditions, physical abilities to watch person, etc. The Horiba IG-340 gloss checker helps to quantify gloss measurement and perform objective numerical gloss value. 
The Horiba gloss checker IG-340's user-friendly interface allows intuitive operations for instant gloss measurement on site. Due to its ergonomic and lightweight design the IG-340 can behold and operated by one hand. High accuracy, repeatability, and precision proved by more than 50,000 units sold worldwide make it indispensable in the object's appearance check and quality control.
The Horiba IG-340 uses a very common measurement angle 60°, which allows accurate measurement from low gloss surfaces to highly polished textures.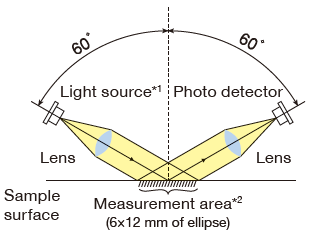 This enables gloss measurement of different materials: stone, wood, leather, rubber, glass, metal, plastic, and various application fields from floor maintenance, car polishing to stone and building materials appearance inspection. The Horiba IG-340 has Ingress Protection to 1IP42* enables outdoor gloss measurements and the use in the fields where some water is present.
Internal memory can store 100 readings and 200 average data with time and date. Instant data output via USB connection and without any dedicated software allows QA and other professional reports to be easily generated. The Horiba IG-340 does not need any special measurement technique. It can be easily used by everyone and become your right hand in reporting about performed works and quality inspection.  
 Horiba IG-340 Features
Compact, Lightweight, and Easy Operation Horiba IG-340

30% smaller than the previous model the IG-320

Easy to hold and carry by one hand

Gloss values can be easily managed on-site with one button one function operation
Environmental Rating Horiba IG-340

IP (Ingress Protection) rates at IP42*

Can be used for outdoor gloss measurements such as construction sites, solar panels, ships, trains, and buses

Also can be used for stone polishing and other applications where water drops are present 
Large Screen Display Horiba IG-340
Internal Memory for Measured and Average Values Horiba IG-340

Measured values can be saved with a single touch

Easy operation with one hand using the side button is also available

Average value can be calculated and saved as well
*Equivalent to IP42 when battery cover and USB cover are closed.
*IP42 means protection against solid objects of 1mm diameter and greater, and vertically falling water drops when the enclosure is tilted up to 15 degrees.
Wiping off water drops on the measurement spots is necessary to obtain an accurate value.

Horiba IG-340 Specifications
 Measurement Range

 0.0 to 100.0

 Display Range

 0.0 to 199.9 [OVER] is displayed for values greater than 100.0 

Repeatability*1
 ±0.6 (±0.5% of full scale ±1 digit)*2

Measurement Area

 6 x 12 mm ellipse

 Measurement Geometry

 60°

 Light Source

 LED (880 nm)

 Operating Temperature

 0 to 40°C

 Relative Humidity

 35 to 85%RH (no condensation)

 Environmental Rating

 IP42

Power Supply

 AA battery

Dimensions

 61 (W) x 62 (D) x 176 (H) mm

Weight

 320 g or less (including batteries and protective cover)

Functions

Auto power off (10 minutes)

Memory: 100 readings and 200 average data with date and time

Data output to PC via USB cable  (Batch output of memory data, OS: Windows®10)*3  

 
  *1: Variation is values when repeated measurement is done continuously in a short time under the same conditions.
*2: Full scale 100.0                                 
*3: Please use a micro USB cable. "Windows" is a registered trademark or trademark of Microsoft Corporation in the  U.S. and other countries.
Each Horiba Ig-340 box comes with:
Not Included but can be purchased separately under Accessories
 Horiba IG-340 Accessories
Protective cover with integrated calibration tile (SKU GF-14010)

Soft case (SKU GF-14020)

Lens cleaning cloth (SKU GF-14030)

Battery (AA x2) 
IG-340 Brochure